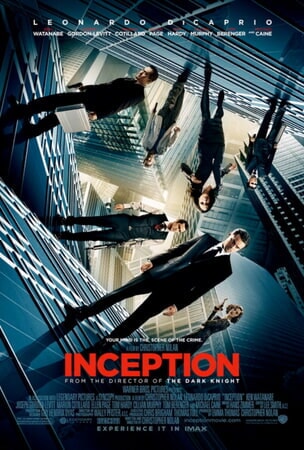 Ten years ago, Christopher Nolan brought us a visually stunning work of art with an array of interesting elements and fictional theories that were pure brilliance. That movie blew its audience away. And, it was not just because of its amazing cinematography and sharper image, but also due to way it enthralled viewers with the missions that are completed in the minds of both the antagonist and protagonist characters. I got the chance to reexperience Inception while it was playing for a limited time in IMAX. I took advantage of this opportunity because previously I only saw Inception in a regular format movie theater. This IMAX experience took my viewing experience to a whole different level and I did not want the movie to end. Inception has so many moments where the scenes are mazes mixed with conflicts in people's minds and their inner thoughts. It was a rollercoaster ride that had both sides of my mind thinking, and with the giant IMAX screen I felt like I was in the mind of the characters.
To recap the plot of Inception, the film is set on a fictional concept of corporate secrets (a fictional element that is meant to be known as dream-sharing technology). The goal is to steal dreams from a wealthy CEO. boss. The man who is skilled at this technology and is fluent with its mathematical factors, including the outcomes of what is right and wrong, is Cobb (played by Leonardo DiCaprio). However, with this talent and craft he has in this fictional setting, Cobb has taken many risks with the dream-sharing technology. These risks have caused Cobb to be a labeled as a fugitive. Due to his challenges, Cobb needs more assistance with his missions and the help of only Arthur (his assistant and played by Joseph Gordon-Levitt), Miles (played by Michael Caine), and Eames (played by Dileep Rao) does not seem enough. This leads Cobb's skillset to go awry and his once successful missions with the inner minds of himself and others lose their focus.
When I experienced Inception this time around (now being a decade later) this made me realize that Nolan is one of those directors that knows how to use the high-end cinematic technology to make his audience feel like they are on the journey of the conflicts of his movies. He does this in all his blockbuster movies after Memento (2020). With the IMAX experience of Inception, the parallel cross scenes between walls, buildings, rooms and people's minds made me think, "Wow this scenario is perceptibly radiant!"  One of the scenes that did this for me is when DiCaprio is training Paige to take part in what his missions entail. He starts with her sketching a maze and keeps having her try again until it looks accurate. She eventually draws a maze that works for him and then they start walking through a city. As he explains many of the obstacles and changes (what his mind entails), the patterns of how the streets are put together start to move around and change, along with how the people around them walk. In that moment, I was dazzled because I realized the way the characters think can lead to mistakes or serious consequences. In IMAX that felt like falling into a deep and dark hole with stunning visuals that make an unforgettable experience.
Nolan is one of those directors where I feel there is no way to experience his filmmaking without experiencing them in IMAX. All his IMAX films have been impressive and include Batman Begins (2005), The Dark Knight (2008), The Dark Knight Rises (2012), Interstellar (2014), and Dunkirk (2017). I recently saw the opening sequence for his new film Tenant set to open this summer and he is doing what he always does best which is using the IMAX technology to embrace his audience technologically with his thrillers. If fans can find Inception on an IMAX screen it is a worthy watch. I am glad I had the chance to re-experience it.