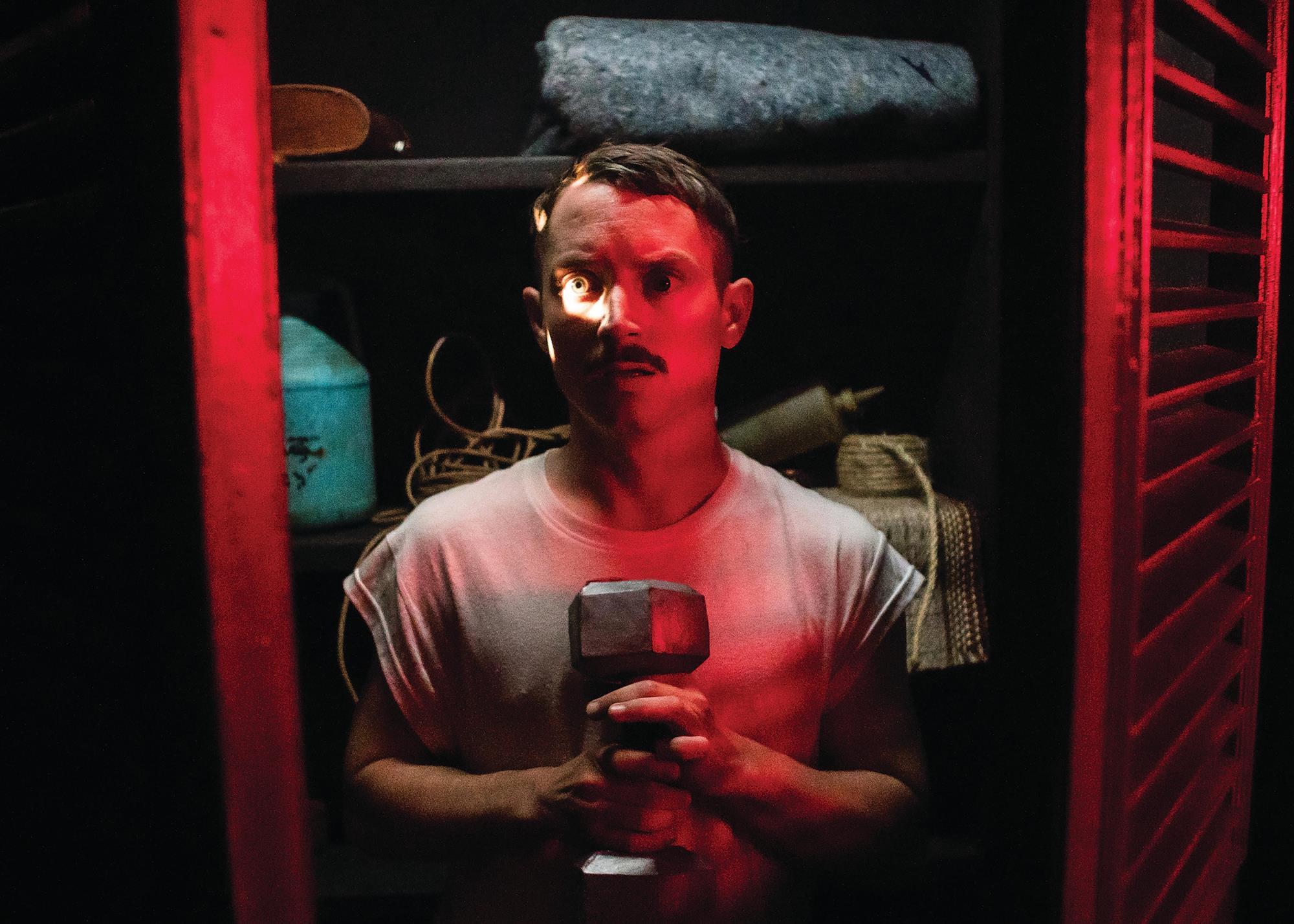 Actor Elijah Wood fits the pattern of playing characters that are gutless and non-violent. But in many of his films, including those when he was quite young, the characters he plays often grow and be brave.  Wood's roles fit this pattern in The Good Son (1993), The Ice Storm (1997), The Lord of the Rings Trilogy (2001-2003), and Green Street Hooligans (2005). Come to Daddy is a movie where that pattern is still with him, but instead of being serious or sad, this film is mixed with comedy and horror. Come to Daddy is hysterical with comic violence, but the violence is also disturbing. It is a film that had me thinking seriously one moment, and then laughing the next.  This film is a strange journey of wonder and unanswered questions that have many disturbing, yet funny outcomes.
Come to Daddy gears on a man named Norval, an artist of music and other forms of entertainment (not specified) with previous alcohol dependency issues. He decides to travel to see his father who he has not seen for decades. Supposedly, his father is Gordon (played by Stephen McHattie). Norval visits him at his giant home that is on a scenic waterfront in Canada. Norval goes to visit because he has received a letter from his father for that purpose. However, as the visit begins, Norval begins to realize that Gordon displays some bothersome language and creepy personality traits. With Norval's prior issues with alcoholism, this is a dangerous situation because along with Gordon intentionally being a jerk, he also drinks heavily. In short order, the father and son time for Norval and Gordon turns out to be a horrid adventure for Norval as the movie continues.
Many people view Come to Daddy as silly or average and I agree due to how the film evolves. The tense moments between Norval and Gordon are sparked by the personality traits of Gordon. We see that in the moments where Norval tries his best to establish a form of connection, but Gordon rejects it with opinionated humor, and consistent mocking. Those scenes grasped my attention because it made me think of real-life scenarios in times of conflict. The answers Gordon gives Norval are not what one would normally expect. McHattie has the evil looks, the menacing laugh, and the snarky comments that make it clear that Come to Daddy is only going to get uglier.
As I mentioned earlier, Wood is someone known to be play gutless characters who build guts later.  In this film, he runs into various scenarios as he makes dangerous discoveries along the way. This makes Come to Daddy funny because Wood's character, Norval, is still not very brave, but he approaches the life and death problems being unprepared and finds himself at odds thinking about whether he did the right or wrong thing. Wood's ability to portray a sensitive personality along with genuine comedic flair is a plus for Come to Daddy. I had a fun time with this movie although Come to Daddy is a movie that not everyone will enjoy.   However, if someone wants a good laugh with some unexplained conflicts thrown in, it is an entertaining film. I am going to give Come to Daddy two and a half stars.