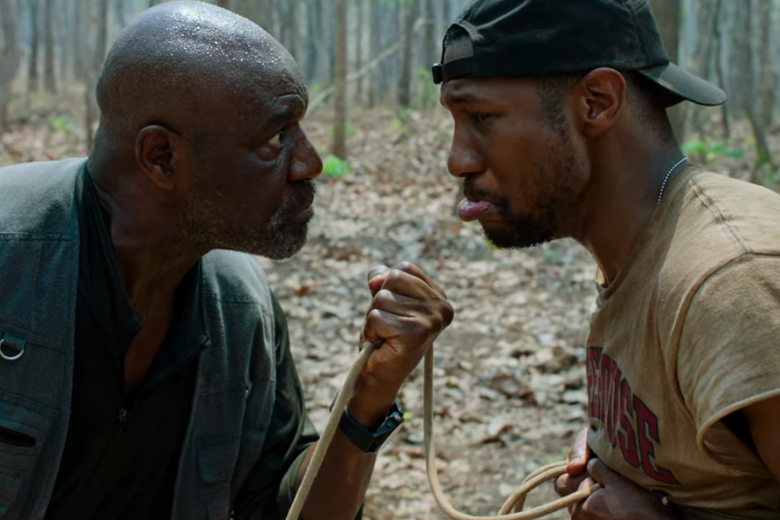 In Spike Lee's Da 5 Bloods, the opening scenes link to historic moments in the fight against racism. Beginning with clips including Malcolm X and Martin Luther King Jr., the movie then moves on to a tragic backstory that gears on redemption and winning on a hunt for gold. This film is what most viewers have come to expect from a movie directed by Lee, a film which features cultural tides and tension.  Da 5 Bloods takes those elements to a level that is invigorating and powerful.
Da 5 Bloods centers on four African American veterans who include Paul (played by Delroy Lindo), David (played by Jonathan Majors), Otis (played by Clarke Peters), and Eddie (played by Norman Lewis). These veterans reunite for a new mission in Vietnam after the death of their friend Stormin' Norman (played by Chadwick Boseman). The goal of their mission in returning to Vietnam is to find what was left of their fallen soldier, and to recover fortunes of gold that Norman helped them hide. Paul is a soldier who has witnessed countless disturbing scenes in Vietnam. David, Paul's son, is concerned that his father may be going insane. The truth is, everyone is going insane, not just because of trying to find the gold, but because of the PTSD from their previous mission in Vietnam.  Now, they find themselves back in a place and encountering scenarios that have irreparable consequences.
I was hooked on this movie right from the start because the way Lee's direction explores multiple elements from the past to the present. This happens in sequences in which there are moments of truth or despair which made me reflect upon how historic scenarios connect to the present conflict. The performance by Lindo is superb as he is the one who burns up the screen with being self-absorbed and macho.  Paul, his character, believes that he is the one who deserves the glory based on what he has endured. The rest are more dead-pan, and believe Paul is going crazy. Lee does a solid representation of how the past muddies up the present in the return to this dangerous world for the veterans.
During the moments of hunting for gold, there are unexpected surprises that lead to life and death conflicts. This includes land mines, nature's wild animals, and more soldiers. The only veteran that finds himself afraid is David (because he joins them last minute). With David's father being so focused on himself, he does not have much sympathy towards his son as he does towards his own earnings if he is able to find gold. The father and son disconnect made Da 5 Bloods an engrossing, yet disheartening journey as the film hits uncharted territory. Lee is an expert at portraying uncharted territory.
I give Da 5 Bloods three and a half stars. It is close to being excellent, but it is at times a bit over-done. However, given that we're in the midst of a pandemic, it is an inviting thrill-ride that has a Full Metal Jacket (1987) mixed with Apocalypse Now (1979) feel, but with more cultural tides and historic moments blended in to make a more suspenseful film. I have respect for Spike Lee, because his surprises that come out of the blue consistently take his directing to another level. For those who are fans of his other films, then Da 5 Bloods is not to be missed.