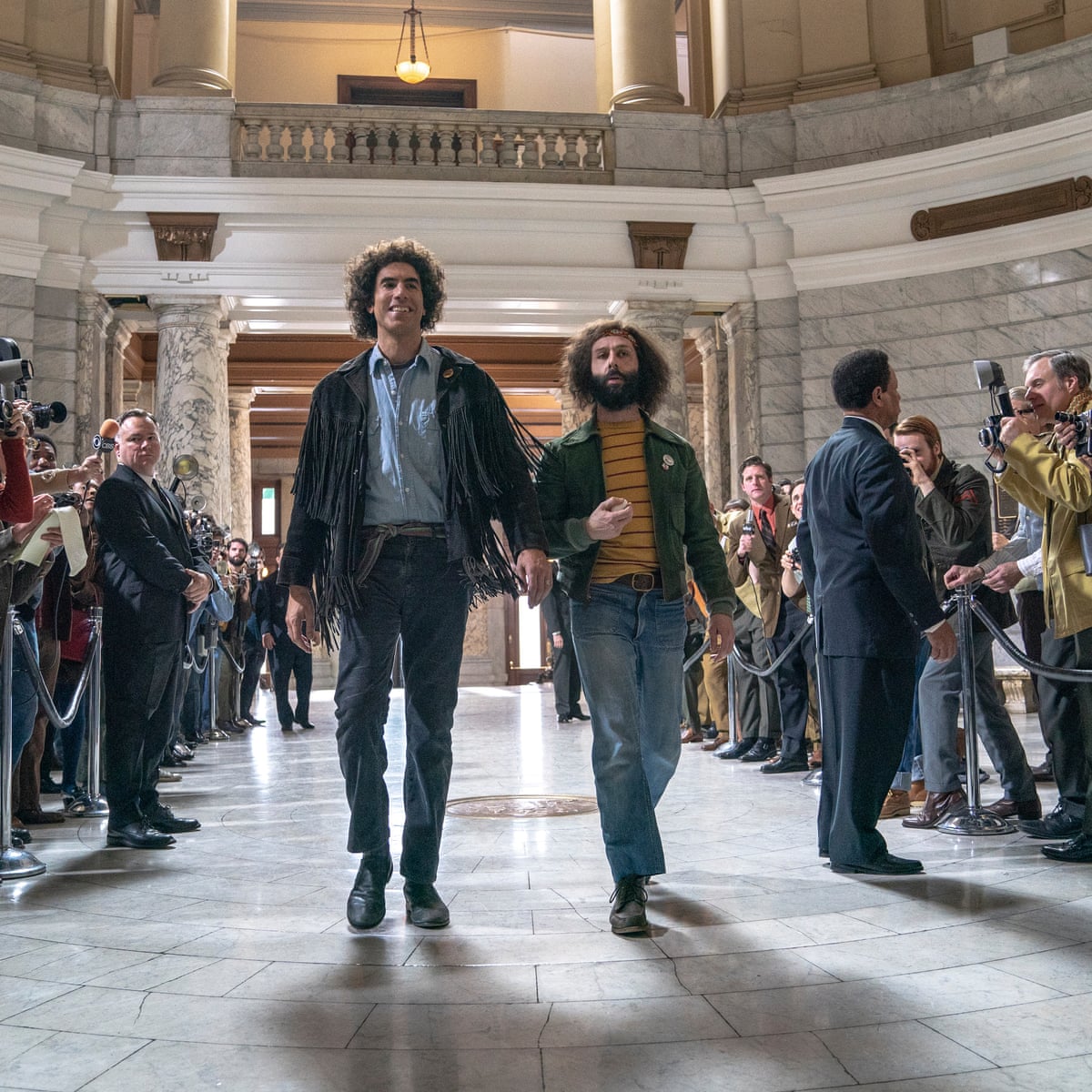 From director Aaron Sorkin comes a riveting and emotional drama based on true events in the late 1960s in Chicago. The Trial of the Chicago 7 will have viewers on the edge of their seats. The film is politically thrilling and emotional as viewers feel like they are right in the action of the cases that are seeking resolution or resurrection. I was deeply involved in both the setting and the dialogue because of how the film was filmed in Chicago. During many of the scenes, I kept remembering times when I have walked through the locations in downtown areas where scenes of The Trial of the Chicago 7 were filmed. Certain parts of the movie, however, are quite emotional, but very compelling.
The film is the true story of seven people who were on trial based on charges related to actions that occurred during the 1968 Democratic National Convention in Chicago, Illinois. Those seven defendants were Abbie Hoffman (played by Sacha Baron), Tom Hayden (played by Eddie Redmayne), Lee Weiner (played by Noah Robbins), John Froines (played by Danny Flaherty), David Dellinger (played John Carroll Lynch), Jerry Rubin (played by Jeremy Strong), and Rennie Davis (played by Alex Sharp). All of these men were charged by the federal government for inciting riots after the Vietnam War. The Judge is Julius Hoffman (played Frank Langella), and the film goes back and forth between court scenarios and previous actions during the riots these seven defendants took part in. The film was somewhat similar to The Social Network (2010), because that movie utilized flashbacks between court scenes and previous events. Sorkin also did the writing for the Social Network and is brilliant at holding the viewers' attention throughout many of his writing credits.
Sorkin fans can tell this is his work. The Trial of the Chicago 7 established lines of structure, and much of the dialogue was not repetitive, but instead on point, honest, and made sense throughout many of the conflicts that were seeking resolution. I especially felt this way in the moments between the defendants and the attorneys. Sorkin's style of writing and directing creates transitions where the film jumps back to moments that are being discussed. When that happens, the audience naturally ponders who is or is not to blame. The Trial of the Chicago 7 includes many resolutions and hidden conspiracies. They are assembled thoughtfully through the talent of Sorkin's directing and writing.
The Trial of the Chicago 7 is probably one of the best films I have seen this year. 2020 has been a weird year for movies. While this one comes to Netflix on October 16, I saw it in the cinema on a whim. Honestly, the true experience of The Trial of the Chicago 7 is on the big screen, because the ambience of the cinema makes the tension and conflicts more enticing. Therefore, I am giving this film four stars.