Hi everyone, I have given this tons of thought and I have come to these titles which grabbed my attention the most this year and I will explain why.
1. Green Book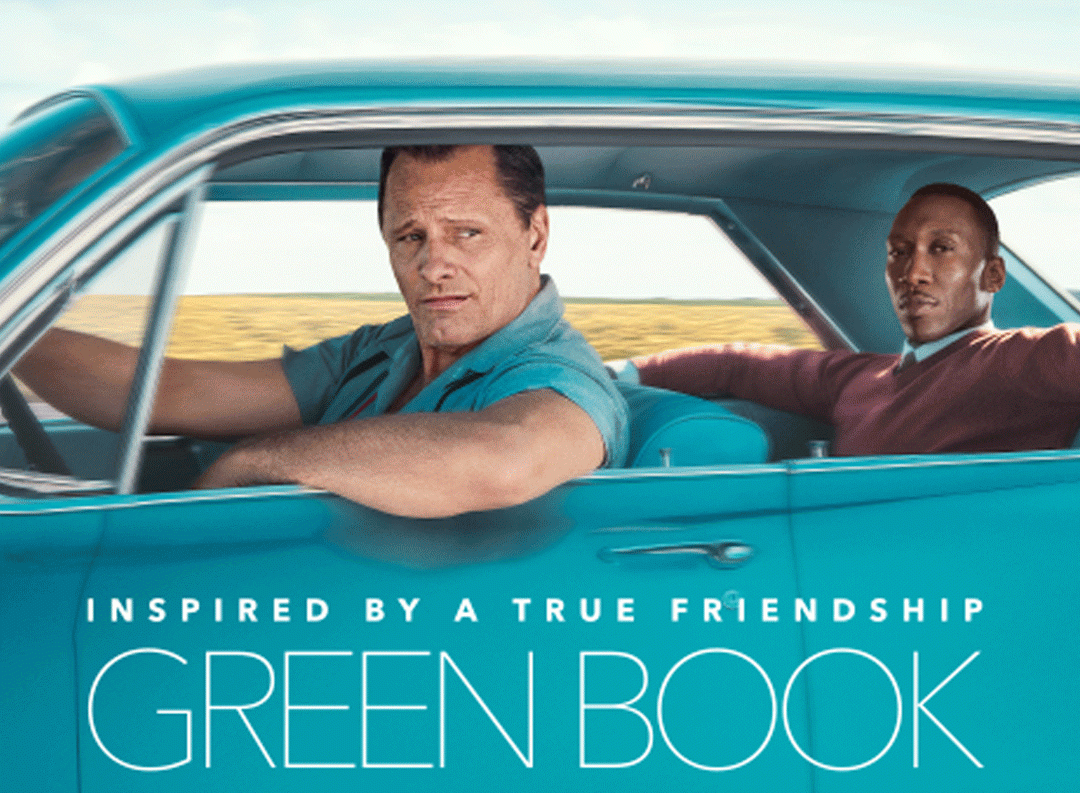 In the beginning, I had somewhat low expectations of Green Book because of its director Peter Farrelly. A variety of Farrelly's films have not really appealed to me given he has been doing mostly slapstick comedies that have been somewhat ridiculous. Green Book on the other hand is clever, funny, and heartfelt. Why I find it to be at the top of my list is because of its brilliant adaptation, and its witty humor. I knew Viggo Mortensen for a while after doing The Lord of the Rings movies and other action movies, and I felt that was all he would do. However, he can definitely play someone who is satirical, opinionated (in a funny way), and of course charming. This is one that Mortensen will be remembered for for a while. Also, Mahershala Ali is awesome in this as well. Mortensen is the driver and Ali is his passenger for a music tour that had me laughing until I cried. Not just because of its humor, but because of the connections and conflicts that Mortensen and Ali come to realize together in its time period being the 1960s. It is a faithful friendship movie that I will always look up to.
2. Bohemian Rhapsody
I was definitely in for Bohemian Rhapsody because of I knew I was going to have a fun time with the music (which I did). I know that some people had mixed emotions about this film, however many loved it. It really grasped my attention because of its background story to how some of the songs by Queen were such a success. However, the lead Rami Malek (as Freddie Mercury) knocks his performance out of the ballpark, and I believe he definitely deserves the award for Best actor in the Oscars. Bohemian Rhapsody is a vivid, musical masterpiece that I was having a fun time with. Many of the moments in the movie with the certain concerts was a dazzling experience. On top of that, I love how it incorporates how band managers and other production companies doubted Queen in terms of their music's length of time and lyrics, but now everyone listens to those songs. The moments of the songs We Will Rock You and We are The Champions will Rock your world and no one plays the part better than Malek as Freddie Mercury.
3. A Star is Born
I had high hopes for this one for quite a while given it was Bradley Cooper's directorial debut. A Star is Born has great music and a great storyline that will leave viewers in tears. Also, Lady Gaga cannot only sing, she can definitely act, and Bradley Cooper cannot only act, he can definitely sing. Both are top-notch with the singing and the acting that it moves its viewers to want to see both of them be successful in this musical masterpiece. Cooper plays a man that is a high profile singer who struggles with fame and alcoholism as his career is going slightly downhill. Gaga is the girl he helps to find her path to fame, but also struggles with his mental health. It is a film that shows how music and talent can bring people together in terms of talent and connection.
4. BlacKkKlansman
I am a fan of director Spike Lee, but was losing my faith in him for a while as a director as it has gone for a couple of years without having a successful movie, but BlacKkKlansman is definitely what I am talking about. Denzel Washington's son John David Washington is definitely on his way to a bright future after his sharp and witty performance in BlacKKlansman. It is a film that takes place in the 1970s and around the civil rights movement, and Ron Stallworth (Washington) is the first black detective on the Colorado Springs Police Department. With the help of his friend and colleague Flip Zimmerman (Adam Driver) they go on a mission insinuate Ku Klux Klan branch. The film has great writing, humor, and scenarios that had my attention. Lee also does a very good job at being descriptive of the type of dialogue that was used in the time period when the film is set. Also, it is based on actual events and I feel Lee is faithful to this movie, it is funny at moments, but actually quite serious. I will say though, Lee has definitely redeemed himself as a director with BlacKkKlansman. I found it to be one of his best since Inside Man (2006).
5. Roma
For director Alfonso Cuaron, I am a fan of many of his films and when I found out that Roma was going to be available on Netflix right away, I told myself I want to see this on the big screen. Therefore, I saw it in 70 millimeter projection at Music Box in downtown Chicago. I just felt that given it was black and white that it would feel like a noir experience in that format in an old-school cinema. Roma follows the life of a maid of a middle-class family in the 1970s in Mexico. The film is psychologically inviting with its tension between its characters, which I found it to be quite similar to Cuaron's Y Tu Mama Tambien because that takes place in Mexico also but in the early 21st century where as Roma is in the late 20th century. Both take place in Mexico and the conflicts are in regards to people's decisions that impact them. Roma incorporates its cinematography to fade at moments of negativity or suspense and light up at moments where it is not so dark with problems. I loved it because it had me on the edge of my seat wanting to know the judgment of particular conflicts with the characters associated with each other in the film.
6. The Favourite
Director Yorgos Lanthimos is becoming one of my all time favorite directors. His films have gotten darker and darker. The Lobster (2015) was funny but somewhat disturbing, The Killing of a Sacred Deer (2017) more disturbing, and The Favourite very disturbing. Lanthimos steps up his psychological horror each time he directs a new movie, but The Favourite was haunting in terms of jealousy and tension with queens and royalties. What I think makes it brilliant is its incorporation of jealousy and politics that play into who has authority over one another. The acting is also attention grabbing. Olivia Colman is nominated for actress in a leading role and both Emma Stone and Rachel Weisz are nominated for actress in a supporting role. The Favourite is worth a viewing.
7. First Reformed
I am fan of director Paul Schrader and actor Ethan Hawke. First Reformed focuses on a minister (Hawke) who is part of a small congregation in Upstate New York and he deals with issues in regards to despair and his haunted past. First Reformed takes political and religious beliefs seriously that it makes viewers wonder how much people's past can haunt them. Hawke is not nominated for anything for this movie (however he was brilliant in it), but it is nominated for Original Screenplay and I think it should definitely win that. It is an original idea that will is inviting for its viewers. It labels Schrader's trait of filmmaking well. Schrader generally likes to incorporate men who fall into dramatic scenarios and have their world crash around them. In this one, the minister's world falls apart, but the question is how? First Reformed I will definitely watch again because I still wonder what other pieces of the conflict I can put together to understand what the film's ending meant.
8. Shoplifters
Winner of the 2018 Cannes Film Festival, Shoplifters is destined to be remembered for years. The film focuses on a family who are all crooks but then decide to take a child they find deserted. This decision leaves them to realize they have bigger responsibilities than stealing items to get by. Shoplifters is a coming of age tale of what it is like to come to terms when one decides to bring someone into their life. It is nominated for Best Foreign language film and I hope this one wins.
9. Mid90s
Directed by Jonah Hill, Mid90s is a heavy film full of language, drug use, and mayhem. The crazy part is it is all done by minors, but it is definitely a faithful movie. It gears on a kid who wants to fit in and be cool in the 1990s. However, he does this because he feels his home life is crazy and he has an abusive brother. Mid90s was dark and hard to watch at times, but I felt it was honest about peer pressure and wanting to be cool at that age,  especially since the main character is a thirteen-year-old boy. I would say it is basically a lighter and slightly more funny version of Catherine Hardwicke's Thirteen (2003).
10. Beautiful Boy
Now this was definitely hard to watch, but it is by far one of the best performances by Steve Carell and Timothee Chalamet. Beautiful Boy follows one father's Journey to help his son recover from his numerous addictions to many drugs. The film is faithful to what is going on in the real world and that sometimes only one program is not enough. There are moments where Nic Sheff (Chalamet) relapse and his father David Sheff (Carell) starts to run out of options to help him, but he does not give up. It is a movie with a heavy theme and that is disturbing at moments, but what I love about Beautiful Boy is it shows how far people will go to save and protect the ones they love in this world.
Thanks and I hope you check these titles out. More reviews will come along definitely!