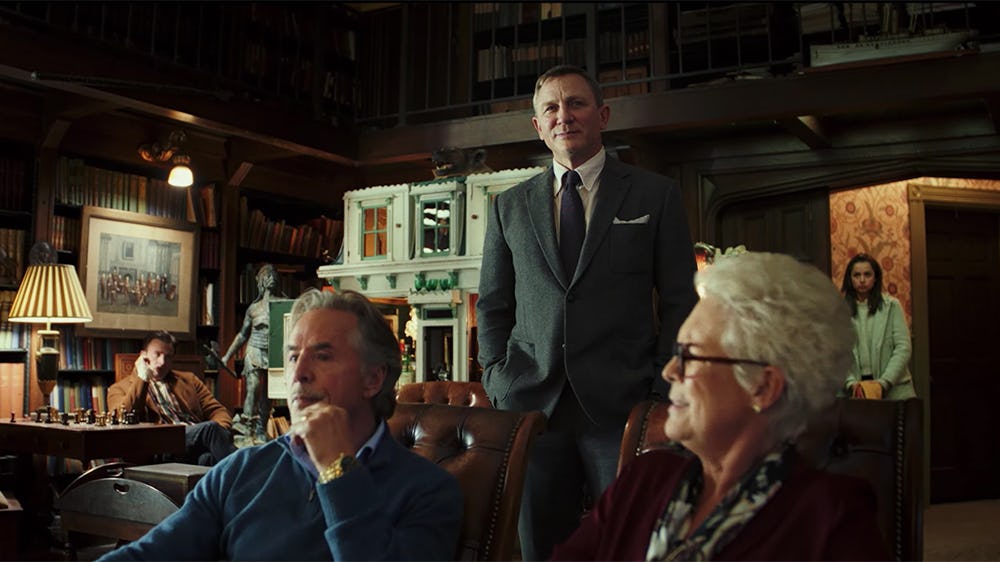 At first, I thought Knives Out was going to be like a repeat of Murder on the Orient Express (2017). That is because the plots and premises are similar, and so it appeared that Knives Out was just intended to be a moneymaker based on both the trailer and cast. I was wrong though, and Knives Out is spectacular, crazy fun and hysterical because it leaves trails of many interesting twists. This is one of the best films by Rian Johnson. The movie has a top-notch cast, great writing, and is a joy ride for the Thanksgiving holiday season. It is the perfect feel-bad yet stellar film for the family (if families believe their kids are old enough to handle the material).
The film focuses on the death of a crime novelist, Harlan Thrombey (played by Christopher Plummer). It is his 85th birthday and he is found dead on that day. The detective assigned to the case of Thrombey's death is Benoit Blanc (played by Daniel Craig). He is structured, organized, opinionated, and seeks to figure out who is guilty of this death. In order to solve the case, he starts to get to know the dysfunctional family associated with Harlan. There is Marta Cabrera (played by Ana de Armas), Linda Drysdale (played by Jamie Lee Curtis), Joni Thrombey (played by Toni Collette), Ransom Drysdale (played by Chris Evans), Richard Drysdale (played by Don Johnson), Meg Thrombey (played by Katherine Langford), Walt Thrombey (played by Michael Shannon), and Jacob Thrombey (played by Jaeden Martell).
Blanc's assistant on the case is Lieutenant Elliott (played by LaKeith Stanfield). Blanc gets to understand how everyone in this family either accepts or denies each of the others. A majority of that is based on wealth, power, and jealousy. Blanc comes to understand that the hatred and shame that has been around this family is why there are tons of signs that start to lead to the truth regarding the death of Harlan. However, some statements or events are not accurate, so this puts Blanc on edge to determine who is most at fault.  He is basing his assumptions on the egos of particular people and the actions that may have caused them to be held responsible. The film is a portrait of jealousy, lies, and money.  However, it is funny to watch while at the same time being suspenseful.
Now, what was most fun to watch in Knives Out was how one of the characters has a lying disorder. I thought that concept was quite clever. I am not going to reveal who the character is, but when someone tells a lie, the disorder causes the person to vomit.  This is another reason I found this movie to be so clever.   Once the authorities recognize this disorder, they start to realize there is more to the case than they know.  Also, the confrontation scenes with the family are dazzling. They get verbally abusive with creative words and get physical with comic violence.  Knives Out is a mystery/comedy flick that don't require deep thought by the audience.  That is because whenever there is a moment of realization, anger or guilt, there is also laughter.
When I saw this movie at the Chicago International Film Festival, Rian Johnson and Michael Shannon were in attendance for a discussion. I remember when they talked about the movie, they were commented that it was a fun movie to make. That is because much of the cast has done other films where there is dysfunction.  This is probably one of Johnson's best films and as a fan of his, I believe Knives Out takes the cake. Therefore, I give this one three and a half stars.