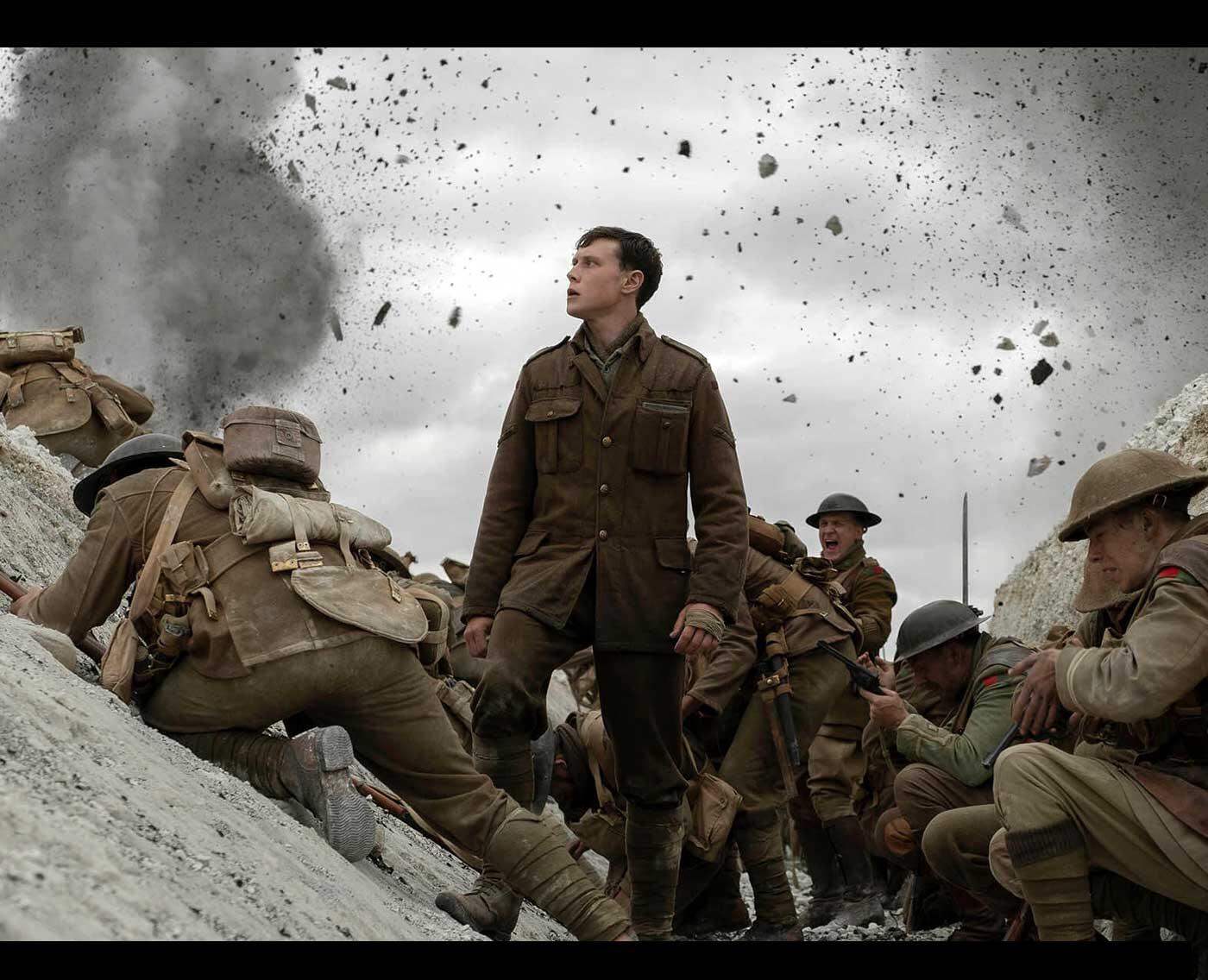 1917: Directed by Sam Mendes, 1917 is a war thriller that blew me out of the water. The technology behind the film itself is intriguing and makes it emotionally inviting. The film is set with two soldiers on a mission to start an attack. As their journey goes deeper into trenches, the more dangerous and complex the journey gets for them. This movie was one of the best war experience movies I have had in a long time. I do not remember enjoying a war movie this much since Hacksaw Ridge (2016). Mendes is brilliant at capturing the emotional elements behind our main character, Corporal Schofield (played by George Mackay). Mackay also delivers a knockout performance that will be remembered for ages. The cinematography and writing of 1917 brings its audience on a ride full of surprises and unexpected turns that keep you curious about what the resolution will be.
Parasite: Movies that focus on the topic of lying or being a con artist often grasp my attention. The negative outcomes that result from telling lies make these films extra intriguing and Parasite is that movie. There are negative outcomes that I expected, but many I did not expect. Director Bong Joon Ho brings us a dark comedy that gears on a family making up multiple lies to be able to live a lavish lifestyle in a wealthy family's home. However, things go awry when they come to realize that the home has some hidden secrets that are extremely disturbing.  Secrets like hidden tunnels leading to hidden rooms are just a few of the odd clues which lead to irreparable consequences. Parasite is a brilliantly structured and intense movie with many unanswered questions and unexpected resolutions. 
The Irishman: When it comes to Martin Scorsese, his Mafia movies have always appealed to me the most. The Irishman is three and a half hours long, but it takes its viewers to a different level of a Mafia drama. The film gears more on the previous conflicts of a Mafia member and how his actions impacted the others he worked with. Our main characters are played by Robert De Niro, Al Pacino, Joe Pesci, and many more to name, but these three guys are ones that Scorsese has worked with together before in other Mafia dramas. What makes The Irishman special is that parts of it feel like a reunion with all the crime actors we love, but in a different movie. Also, for Pesci, he shows he is still brilliant after a long hiatus from acting due to both his ability to portray his crazy side and his haunting voice. The Irishman focuses more on how the actions of one man impact people he worked with instead of just showing multiple acts of violence. The writing and dialogue are captivating.   And, honestly the film goes fast because of the attention needed to understand what is going on deep within the conflicts.
Uncut Gems: Adam Sandler delivers a knockout performance that is pure adrenaline. Uncut Gems will have its viewers thinking about the negatives outcomes as Sandler's character progresses through life making risky financial decisions which put him in harm's way. The concept of Uncut Gems is disturbing yet compelling. The tone is dark and given Kevin Garnett (the basketball player) is one of the main focuses of the film's conflict, I felt Uncut Gems was a real, suspenseful experience that blew me away. I am disappointed the movie did not get much Oscar buzz, because Sandler deserves tons of credit for this role. He transformed from being a comedic actor to an actor that plays both the protagonist and an antagonist in multiple elements in Uncut Gems.
Once Upon a Time in Hollywood: Now this is the least violent movie by Quentin Tarantino, but I still view it to be a masterpiece. It is more graphic with clever dialogue and quirky scenarios instead of violence. Tarantino brings his fans a movie that takes place in the Golden Age of Hollywood with two fictional actors placed with real-life, historical Hollywood scenarios. Leonardo DiCaprio and Brad Pitt are both awesome in this coming-of-age film about a struggling era in Hollywood, and the bad decisions they make as they try to break their way into being wealthy in the world of movies and Hollywood. I also love how Tarantino linked this to his other movies in small ways by adding scenes that relate to previous movies he has directed. The film has a few instances of graphic violence, but not as many as I expected. I liked that because I found myself laughing a lot more due to the dialogue and the crazy outcomes that viewers do not anticipate. DiCaprio is nominated for best actor, Pitt is nominated for best supporting actor, and Tarantino is nominated for best director. Not sure if they will earn the awards, but they deserve credit because people were initially skeptical about Once Upon a Time in Hollywood. Based on how good the film is, I hope it wins at least one or more of the awards it is up for.
Joker: I feel that the true Joker villain was played by Heath Ledger back in The Dark Knight. That performance is still one of the best performances I have ever seen, partly because Ledger jumped right into the menace and mayhem. Joker (directed by Todd Phillips) is stellar with the background and the wild performance by Joaquin Phoenix. Phoenix does an excellent job portraying the issues his villain character has before he goes insane. This includes weird outbreaks, laughing at everything, and feeling like violence delivers a positive outlet. Viewers see his emotional battles with his mental health issues and start to anticipate things getting worse as many of the scenarios get darker throughout Joker. Phoenix has the laugh, the evil smile, and the creative negative ideas that will be remembered for ages. Phoenix is nominated for best actor which I believe he deserves because he delivered the second-best Joker performance I have ever seen.
Marriage Story: Noah Baumbach is known to make films based upon his own life and Marriage Story is one of them. I was deep in thought during Marriage Story and I found it to be a film with an emotional concept that seeks to find light. Adam Driver and Scarlett Johansson are brilliant. They play two people who want to end their marriage, but for the sake of their son, work together as a team. The writing is dramatic and personal. The many issues the couple faces to resolve are heart-wrenching, and it will make viewers cry. I admit I even cried given how close to home Marriage Story hit for me because my parents are divorced. It reminded me how hard it can be to work together to resolve agreements, especially when there are so many obstacles to go through during the process of divorce. However, I also found a positive message about how life can move on to a better place. Two people eventually light after realizing that the process is not easy on anyone. Baumbach is faithful to his subject allowing his viewers to see the emotional challenges between Driver and Johansson.
Knives Out: When it comes to murder mysteries, many have appealed to me over the years. With Rian Johnson's Knives Out, I found myself thinking about how thought-provoking the plot is. That is because after a man dies, there are multiple people in the family with resentments, secrets, and previous history that may play into why the main character is dead. What also got to me was the interesting clues in the movie, including one where someone has a disorder of vomiting when she is lying. The line-up of actors is top-notch with many phenomenal performances by Daniel Craig, Michael Shannon, Jamie Lee Curtis, Chris Evans, Ana de Armas, Toni Collette, Don Johnson, and Christopher Plummer. It is a film with lies, deceit, and realizations that are intriguing and funny.
Honeyboy: Shia LaBeouf is someone that I have had issues with after a variety of negative media challenges he has experienced. However, in Honeyboy he redeems himself on many levels. The movie makes us realize the challenges he has had throughout his life and we see that as he plays the role of his own father. The film gears on a boy named Otis (played by Noah Jupe and Lucas Hedges). Jupe is Otis at age 12 and Hedges is Otis at 22. The film shows how Otis struggles with coming to good terms with his abusive father given his father's income is based on his son's fame. It also shows how Otis struggles with addiction by depicting alcohol addictions in his past. This is all based on the life of LaBeouf.  He plays the role of his own father so dramatically well that it will leave viewers deep in thought. LaBeouf is now a changed man and this movie made me have respect for him as an actor again.
Luce: When it comes to movies about high schools and rules, Luce is that political drama that pushes the limits of rules in high school. The film gears on a boy whose name is Luce who writes an essay that disturbs his teacher due to its graphic content. The student is played by Kelvin Harrison Jr, the teacher is played by Octavia Spencer, and the parents are played by Naomi Watts and Tim Roth. The problem they face is wanting to keep their son's reputation as an all-star, but do not know what the right way to approach the issue with his graphic essay. This leads to other tough scenarios involving rules and other political school issues to consider. The combination of these concerns makes it hard for everyone to figure out who is in the right or the wrong. Luce was a fun movie due to the political tides and other factors taken into consideration for both the student and the teacher. It is a cat and mouse game with brilliant dialogue and interesting connections that make the film a politically charged drama.
Note for Readers: Some of the movies did not make it into the Oscar categories, however, these movies were the most memorable experiences I had in 2019. Thanks for reading.