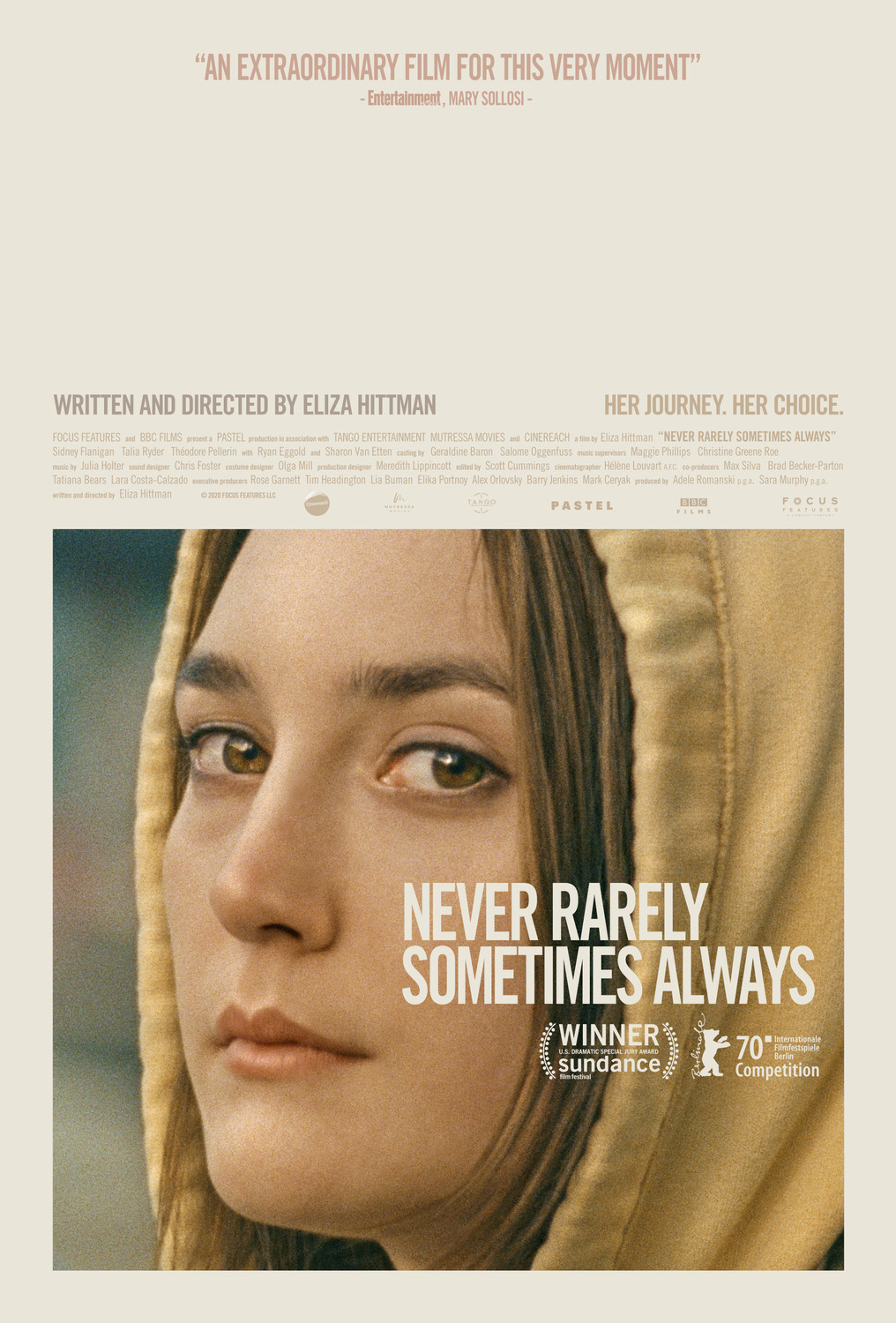 Eliza Hittman is becoming one of those directors and writers gearing on films with issues related to young adults. She did so with Beach Rats in 2017 and does so again with Never Rarely Sometimes Always. The film begins with faded cinematography and lighting showing close-ups of Autumn's (played by Sidney Flanigan as the lead actress) looks of aggravation, frustration, and confusion. The film has a heavy theme, but it is set quietly which helps viewers follow Autumn's journey involving her stressful conflict. Never Rarely Sometimes Always holds many emotions and questions that are slowly answered as Autumn deals with an unplanned pregnancy.
Autumn is a seventeen-year-old high school student. She is not close to her parents.  There is unexplained tension and their communication is lacking. As the days go by, she is not feeling well, and then she realizes it is because she is pregnant. This is a portion of Autumn's life where she feels she does not have the guts to talk to her parents about her situation or visit a clinic in her hometown in the state of Pennsylvania. The clinics in her state require parental consent for an abortion. This prompts her to go to New York with her cousin Skylar (played by Talia Ryder). In New York, the clinics do not require parental consent and that is the cousins go on this difficult journey to find a resolution for Autumn. The downside is they set out on this trip with little money and not much knowledge on what they can afford. Most of the money they have is required for Autumn's procedure at the clinic which causes tension to slowly grow between the girls. Autumn is distraught with herself because she feels there is no other way to move forward unless she goes through with the abortion.
Never Rarely Sometimes Always spoke to me, because it shows how important it is to have communication and support when facing unplanned situations. The scenarios where Autumn and Skylar realize they have no money shows that they are still too young to navigate conflicts without the help of a parent or an adult guardian. Director Hittman shows a clear depiction of how Autumn's brain is not developed enough to take on life-changing challenges (which is also shown in many scientific studies). Never Rarely Sometimes Always makes us ask ourselves if Autumn is going to be alright and also makes viewers hope she will be. Unfortunately, she is just someone who made a mistake and is not a bad person, but just wants to feel she is loved.
Never Rarely Sometimes Always has a heavy theme, but I thought it was done right. It was not made to be overly depressing by throwing many more irreparable consequences in with the main conflict. It only had the one conflict of the unplanned pregnancy and the difficult journey in which Autumn had to make a challenging decision. At the film's conclusion, I wondered what was in store for Autumn based on her actions and I was left asking myself if her decisions were the right ones.  Overall, believe Never Rarely Sometimes Always deserves three and a half stars.